What To Buy Your Bird This Xmas
Posted On: 14/11/2016
By: Scouse Bird
Sometimes it's hard tryng to figure out what the hell to buy everyone for Xmas so I cast my net far and wide to see if I could find some really cool or useful things you can get for your loved ones this Xmas.
Five Things To Buy Your Bird This Xmas
We all love a good Disney Princess and Belle was the thinking girl's princess. This wall art from Spineless Classics is really, really pretty and actually uses the ENTIRE Beauty & The Beast book (that the Disney film was based on) to create this beautiful work of art. Like you can actually read it. Very, very clever. It's the perfect gift for the grown up Belle in your life.
Beauty & The Beast wall art - £19.99 or £39.99 (framed) from Spineless Classics
.
I guarantee that at some point, every fella has been pissed off with every bird for how messy their make up bag/draw/table/room is. It's not our fault! There's just so much amazing make up out there and there's no where to keep it all! That's why you absolutely need to get her a Glambox. it keeps her make up tidy, looking pretty and because she can see all her make up at a glance, it might mean that she doesn't have to go out and buy a 10th nude lipstick because she can see she already has nine. I said might. 
 .
You know how much your girlfriend spends getting her shellac done yeh? A UV nail kit means she can do her nails whenever she wants so if one chips off there's no need to wait for an emergency apppointment, plus she can save a shit load of money. Winner. The Mylee PRO Elite is a salon quality lamp and dries her nail polish in just 30 seconds (you've seen the meme about a woman only being helpless while her nails are drying, so if you need to tell her bad news in future, you'll only have 30 seconds to tell her and run away) plus it's touch sensitive just like in the salons so there's no faffing about with buttons and potentially smudging her hard work. Once she's done, her manisure should last for weeks. The future is now. The starter kit comes with base coat, top coat, lamp and some lovely colours.
Mylee Pro Elite starter kit - £39.99 Justbeauty.co.uk
 .
When you're applying foundation, there's one huge deciding factor on whether or not it's gonna look shit - the condition of your skin (ok two, you have to make sure you have the right colour as well, no one wants to go full Donald Trump). You can't paint a masterpiece without first preparing the canvas and to do that, it's all about exfoliation. Sure there's abrasive scrubs that will shear a layer of your skin off but, it's the end of 2016, there's a better, kinder to skin way to do this. The Barefaced Exfoliator brush by Magnitone is famous in the skincare world, not only does it gently brush away dead skin and buff the skin but it also uses sonic waves to give her face a massage and tone - and a toned faced is a youthful face. Her make up goes on better, she looks better, she feels better - she glows. Even better, they've brought out a precious collection for Xmas which means the Barefaced comes in glittery gold or rose quartz. So so fit.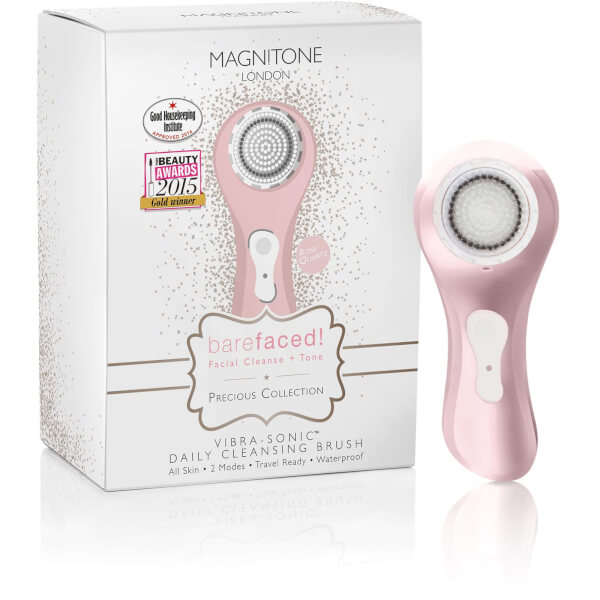 Magnitone Barefaced Exfoliator - £70 Magnitone
.
There was a time when only GHD's would do when it came to hair straighteners. Ask any 00's teen girl and she can tell you all about the horror of when her ma would claim that those naff Babyliss straighteners that you filled with water with were just every bit as good as GHDs at getting that razor straight flat and lifeless look. They weren't. But things have changed; not only have other brands stepped it up a notch, they've managed to better to original styling iron and gone and done it at a fraction of the price. Finally. This Christmas, treat your bird to Toni & Guy's Limited Edition Illusions Styler. Not only does it let you create curls and waves and straightens locks but it comes with a chic travel pouch and mat and a whole heap of technology, like touch control temperature and an auto shut off. That's right, never again will your girlfriend be texting you worried that she's left the straighteners on - these babies automatically turn themselves off after an hour. God bless Toni & Guy, making life just that little bit less stressful.
Toni & Guy Illusions Styler - £44.99 Argos.
 .
And of course, when it comes to your girl, you'll find absolutely loads of stocking fillers and gorgeous bits for her over at my shop www.thesassybird.com and there's even free delivery on orders over £50...
Subscribe to our mailing list